Animating along a Curve using Mash
W19 Loeb
A cool way to animate and have it look good quickly, is to have your character respond to another object. A quick way to do that, is to have an object move along a curve.
MASH offers a super simple way to make that happen. Let's try it.
Create a Curve
We want to create a curve that loops so that an object can loop around your character and your character can duck to avoid it.
You learned a fast way to make a spring curve last week by making a helix, adjusting the INPUTS,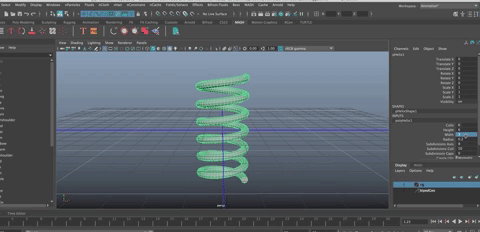 selecting an edge that goes along the entire helix, and going to Modify>Convert>PolyEdges to Curve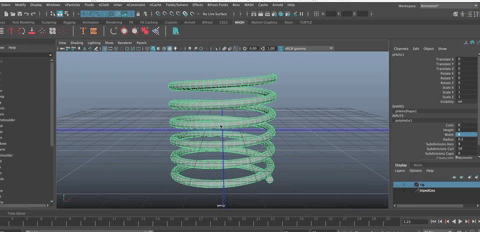 You can then delete the helix geometry and you have a curve shaped like a spring!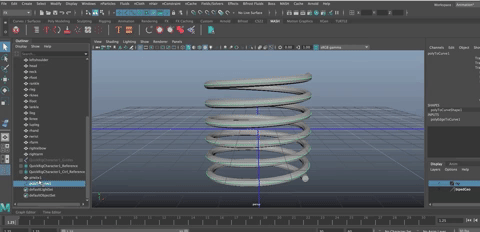 Center the Pivot on the curve. (Option + shift + c)
Rename the curve to "path"
Freeze Transformations (option + f)
Delete History (Option + shift + d)

Save (Command + s)

Create a sphere (Control + shift + o)

Move it over and scale it as you'd like
In the FX Module and shelf
Create a MASH Node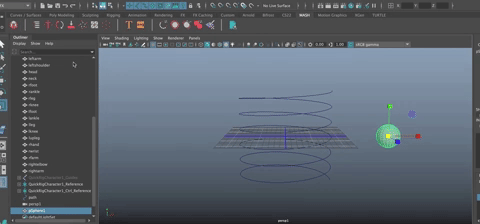 In the Attribute Editor
In the Mash Distribute node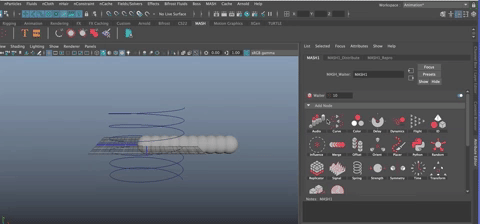 In the Mash1 Node

In the MASH1 Curve Node

MMB drag the "path" curve to the Input Curves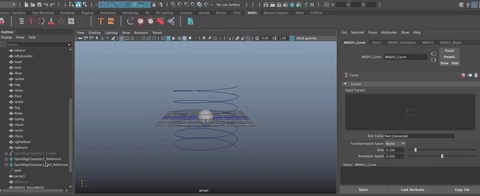 Make sure your playback is set to Real Time
And your playback range is between 1 and at least 500
Hit Play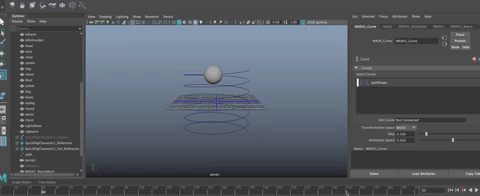 The sphere moves along the curve.
You can adjust the rate of the motion and other timing options in the Attribute Editor for the MashCurve
NOTE: Creating an animation along a curve that you then have your character duck or avoid, is a great way to think about building your animation out.